A Whale of a Plane

IFAW-the International Fund for Animal Welfare, Cape Air's Art in Flight and the artistry of famed airbrush painter Jürek have joined together to bring the magnificence of whales from the sea to the sky.
Fantasy Flyer

Reflecting the beauty and excitement of Key West while depicting Cape Air's dedication to Florida and the Keys, the Fantasy Flyer illustrates the Conch Republic flag, underwater life, a pirate, treasure, Captain Tony, parrots and more. An airbrush masterpiece by world renowned artist, Jürek, the Fantasy Flyer, a Cessna 402, served passengers flying Cape Air's Florida markets.
Where it All Began

In 1989 Cape Air began service between Boston and Provincetown. On this Cessna 402, famed airbrush artist Jürek gives his unique view of destinations, the historic majesty of Boston and the unique ambiance at the tip of Cape Cod, Provincetown.
The "Green Machine"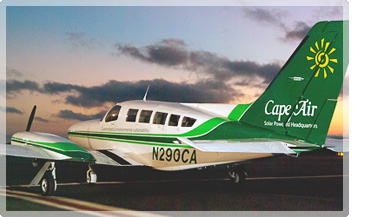 The "Green Machine", which is often see on the lines throughout New England, exemplifies Cape Air's commitment to sustainability.