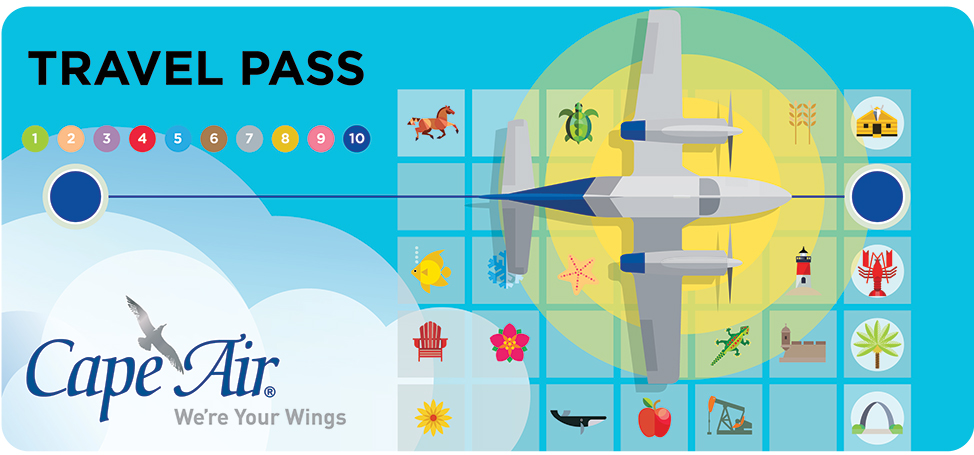 For our TravelPass customers: due to the reduced flying during the COVID19 outbreak, we will be extending the expiration date of TravelPass products for three months. Any TravelPass holder with an unexpired pass as of April 15, 2020, will receive a three-month extension to use their passes.
You asked, and we answered! One of the top requests we regularly received has been to offer an easy, convenient electronic version of the commuter book without the hassle of having to keep track of paper coupons. We've heard about paper coupons that went through the washing machine, got lost in the deep dark recesses of a nightstand and even booklets that wound up being left behind on other continents. That is why we are excited to offer TravelPass, our electronic 10-ticket product that will replace our paper commuter books.
TravelPass is designed for online self-service at capeair.com. At your convenience, you can buy TravelPasses, book pass flights, and track upcoming trips.
There are similarities between TravelPass and our commuter book product, and also some great new features. To explore how TravelPass works, visit our TravelPass FAQ section.
As a perk to our TravelPass cutomers, courtesy baggage check-throughs with other airlines will be allowed.
Please note: TravelPass accounts may have up to 5 travelers on a group account. Corporate accounts requiring more than 5 travelers on one account may apply for a Company TravelPass account.
Please note: TravelPass was developed to offer a discount for our customers who fly a particular route with frequency. The discount is a perk for our loyal customers who travel with us often. The product is not designed for account holders who wish to routinely add and delete members, guests, clients or renters (who will not fly regularly) on to their account. Requests to add and delete travelers will be at the discretion of our TravelPass agents and reservations supervisors.
Expiration: TravelPass coupons expire 12 months from the date of purchase. We are not able to extend the expiration on passes. Unused coupons will automatically expire and be deleted from your account 12 months from the date you purchase your 10-pack.
If you do not believe you will be able to use all 10 coupons in a 12-month period, TravelPass may not be the best travel option for you. The product is designed for frequent travelers who consistently fly with us on a regular basis.