Vieques
We're your wings to Vieques.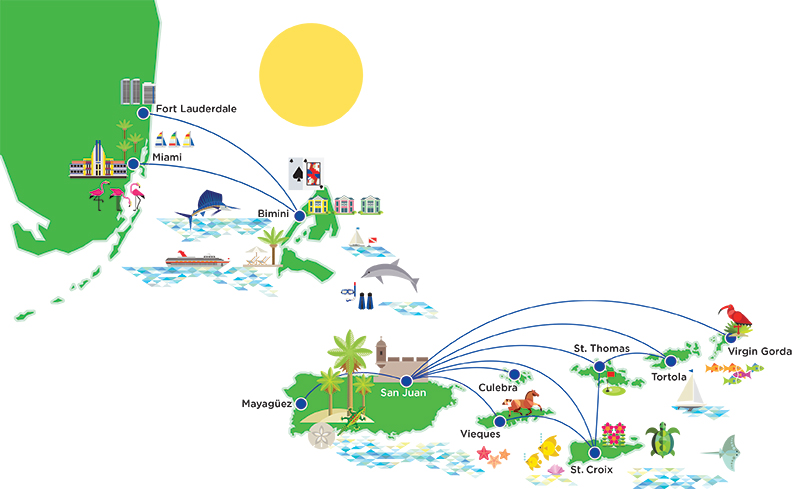 A tranquil and undeveloped island, Vieques is characterized by unspoiled beaches and natural wonders. Cape Air flies to Vieques from San Juan eight times daily, and once from St. Croix.

Hotels: Lodgings in Vieques run the gamut from high end boutique hotels to budget friendly inns and guest houses. The luxury hotels have a sophisticated style and incredible customer service, while the local B&B's are more affordable and intimate.
Beaches: The beaches in Vieques vary widely. For more rustic beaches, Pata Prieta or "Secret Beach" and Playa Esperanza are great places to relax and watch the day go by, and occasionally manatees are spotted at Playa Esperanza. Playa Sun Bay has more amenities than most Vieques beaches, but can sometimes get crowded during peak season. Despite the crowds, it common to see wild horses called Paso Fino, which are unique to the island.
Activities: For a once in a lifetime experience, be sure to take a nighttime kayak ride in Puerto Mosquito Bioluminescent Bay. When your kayak disturbs the water around you, the microorganisms in the bay give off a captivating glow. The best time to see this phenomenon is during the new moon, when the bay is darkest at night. In the daytime, there are many great places to do water sports, and snorkeling is popular at the quieter beaches. The western end of the island has cycling trails, and while on that side of the island the Vieques National Wildlife Refuge is worth a visit for its beautiful views and public beaches.
Historical Sites: On the north shore of the island stands a lighthouse named El Faro Punta Mulas. Built in 1895, the lighthouse is now a maritime museum open on weekdays, and provides views of the main island of Puerto Rico, St. Thomas and St. John.
Nightlife: Though Vieques is generally very quiet and laid back, night owls can enjoy local dives with live music and nightly drink specials, along with a lively disco called Club Tumby on the west side of the island.
The Puerto Rico Tourism Company is your resource for all the adventure, culture, history and fun that awaits when you visit!