The New York Connection
Fly the Cape & Islands to NY!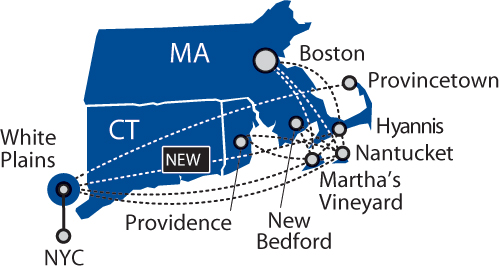 Cape Air is your wings for fast, convenient, easy connections to Cape Cod & the Islands from New York.
NEW for Summer 2013!
Our new service between Barnstable Municipal Airport in Hyannis, MA and Westchester County Airport in White Plains begins on June 14, 2013! This seasonal service is scheduled to run through Labor Day Weekend. There will be four weekly round trips between Hyannis and New York. Passengers can opt to take our ground transportation from White Plains to the core of the Big Apple at 35th Street and 8th Avenue. Go from the boardroom to the beach in just under 2 and 1/2 hours!
Cape Air's service to/from New York City: Cape Air offers service to New York city via our White Plains Station at Westchester County Airport. Fly from Hyannis, Provincetown, Lebanon, NH, Nantucket or Martha's Vineyard to Westchester County Airport and our ground transportation will take you to the heart of Manhattan at 35th Street and 8th Avenue.
Our Lebanon - NYC service runs year-round.

The Manhattan Island Hop from the Vineyard or Nantucket to New York City runs seasonally, with service from April through December. Flights from NY to the islands run on weekends only from September through the end of December.

Our service between New York and Provincetown is seasonal, and is scheduled to return inJune, 2013.
When booking online from Lebanon, Provincetown, Hyannis, Nantucket or Martha's Vineyard to New York City, select ZYP as your destination. This will reserve your flight to White Plains, as well as the ground transportation to Manhattan.
Ground transportation is provided by Athanise Corp. d/b/a Dashaway Limo.
---
Booking your travel in New England
To book flights between two Cape Air cities, reserve online or call 800-CAPE-AIR.
Visit JetBlue.com to book your complete itinerary (including the Cape Air leg), to over 60 cities connecting in Boston.
Cape Air's New England Routes

Fly between Boston and
Hyannis, Martha's Vineyard, Nantucket, Provincetown, Rutland, Lebanon, Augusta, Rockland, Bar Harbor, Albany, NY
Fly between Hyannis and
Boston, Martha's Vineyard, Nantucket, White Plains/NYC
Fly between Nantucket and
Boston, Martha's Vineyard, New Bedford, Providence (seasonal), White Plains, NY (seasonal)
Fly between Martha's Vineyard and
Boston, Nantucket, New Bedford, Providence (seasonal), White Plains, NY (seasonal)
Fly between Provincetown and
Boston, White Plains, NY/NYC (seasonal)
Fly between New Bedford and
Martha's Vineyard, Nantucket
Fly between Providence (seasonal) and
Martha's Vineyard, Nantucket
service returns in June of 2013
Fly between Rutland, VT and
Boston
Fly between Lebanon, NH and
Boston, White Plains, NY
Fly between Augusta, ME and
Boston
Fly between Rockland, ME and
Boston
Fly between Bar Harbor, ME and
Boston