Caribbean
We're your wings in the Caribbean.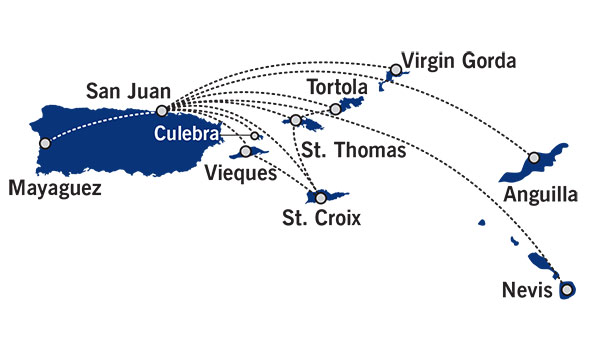 For 16 years, Cape Air has been providing inter-island service to the Caribbean, and has earned the reputation for being the region's most reliable, consistent and professional air service provider.
In the Caribbean, Cape Air has a codeshare agreement with American Airlines and United Airlines and interline agreements with JetBlue. Our ticketing and baggage agreements with most major carriers make connecting a breeze.
Booking your travel in the Caribbean



Cape Air's Caribbean Routes:
From our hub at Luis Muñoz Marin International Airport in San Juan, Puerto Rico, we're your wings to the Caribbean's finest destinations, with fast, frequent, daily, year-round flights.
San Juan - Vieques

San Juan - Mayaguez

San Juan - St. Thomas

San Juan - St. Croix

San Juan - Tortola

San Juan - Anguilla

San Juan - Nevis

San Juan - Virgin Gorda

San Juan - Culebra

St. Thomas - St. Croix

St. Croix - Vieques

St. Thomas - Tortola